Commission Free ETFs
Updated Friday, September 13, 2013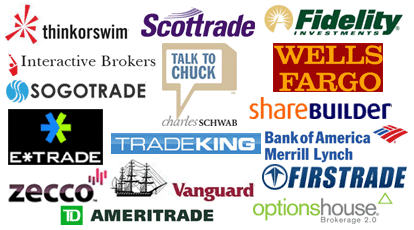 To get free trades, free money and other great deals
visit our Discounts and Special Offers page

Commission Free ETFs
Exchange Traded Funds (ETFs) have been one of the fastest growing financial products of the last decade. At the beginning of 2010 there were 857 U.S.-listed ETFs with $736 billion in assets. ETFs have become very popular because they offer investors diversification and indexation that is often superior and at lower cost than similarly structured mutual funds. Schwab and Fidelity were the first brokers to attract investors by offering commission free ETF trading on select funds. Soon after, TD Ameritrade and Vanguard joined in by offering their own selection of commission free ETFs. Firstrade, Interactive Brokers and E*TRADE are the latest brokers to offer their own selection of ETFs. Let's take a look at the funds that each broker offers.


Schwab
Schwab
features 21
Schwab
branded ETFs along with funds provided by State Street SPDR, Guggenheim Investments, PowerShares, ETF Securities and United States Commodity Funds. This works out an impressive total of over 110 funds that can be traded by
Schwab
account holders with no commission charges.
Fidelity
In what was clearly a retaliatory move,
Fidelity
followed
Schwab
by offering free ETF trading on 25 iShares branded funds. Fidelity has recently upped the total to 65 funds, including US Equity Index Funds, International Equity Index Funds and Fixed Income Funds.
TD Ameritrade
Refusing to be outdone,
TD Ameritrade
has topped all competitors by offering a massive 101 commission free ETFs. The list is mainly comprised of iShares,
Vanguard
, SPDR and PowerShares funds. Note that all funds must be held for at least 30 days, otherwise a short term trading fee will apply.
Vanguard
Vanguard offers all 49 of their Vanguard ETFs commission free, which includes stock funds, bond funds, sector specific funds and international funds.

Scottrade
In March 2011,
Scottrade
began offering 15 commission free ETFs. These ETFs were managed by FocusShares, a wholly owned subsidiary of
Scottrade
. As we remarked at the time, the volume on these funds were extremely low and we feared that they were not liquid enough to recommend to investors. Sure enough, Scottrade pulled the plug on these funds in August of 2012.
Firstrade
In April 2011
Firstrade
began offering 10 commission free ETFs. There funds are mostly
Vanguard
and iShares branded funds.
E*TRADE
In December 2011
E*TRADE
began offering 88 commission free ETFs covering a large number of categories and managed by Deutsche Bank, Global X and WisdomTree.
Click here for the full list
.
Final Analysis
It is good to see that both the major and lesser known brokers are offering innovative products to their customers in the form of commission free ETFs. With that said, now that there is a fair amount of competition in the space, we can afford to rate the fund selection of each broker critically.

Certainly Schwab, Fidelity, TD Ameritrade, Vanguard and E*TRADE all offer extensive lists of funds. Firstrade has a good stock trading platform and offers some very well known funds but only has 10 from which to choose. Finally, Interactive Brokers has an excellent trading platform but the fund selection is not really an ideal selection for most investors.

For now, while all brokers mentioned here offer nice values via commission free ETFs, we think that Schwab and E*TRADE offer the best choice for commission free ETF trading because of their choice of funds and the quality of their trading platforms in general.