Updated Monday, April 25, 2011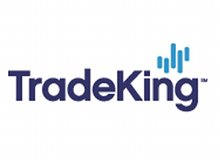 TradeKing iPhone App Grade: C
Overview:
---
The
TradeKing
iPhone App's menu design and general usability is top notch. Checking account balances, holdings and activity is handled well. Markets and quotes pages are useful though they are only minimally detailed. Charts and watchlists could both use improvement. Opening new stock and options positions from the order entry menu is handled well while closing out existing positions from the account holdings menu could be handled better. Canceling and modifying open stock orders works flawlessly while we had problems modifying open options orders.
TradeKing
customers who are looking for a basic mobile trading app will be satisfied if not overly impressed by the
TradeKing
iPhone App.
App Store Facts:
---
App Name: TradeKing Mobile
Version: 1.0.2
App Size: 8.4 MB
User Rating: 2.5 / 5 stars
Details:
---
Logging In
Users are required to log in to access any account features. Neither user names nor passwords can be stored and must be entered each time upon opening the app. Session timeout can be adjusted from 5 minutes to one hour in length, which means that users can multitask without hassle. We appreciate that
TradeKing
put in the effort to implement this well, since many other brokers do not seem to give these general usability features any thought at all.
Menu Structure
The bottom menu contains the four main application menus: accounts, markets, quotes and trading. Let's go through each one of these sections.
Accounts
The accounts menu contains three different pages: balances, holdings and activity. Balances shows an account summary of cash, stocks, options, mutual funds, fixed income and buying power available to purchase additional positions. Holdings shows a detailed list of current account positions. Activity can be shown going back to the previous month. All three menus can be viewed by holding the iPhone both horizontally and lengthwise. Here is a look at the holdings menu for our account:
Markets
The markets menu shows the latest quotes for the DOW, NASDAQ and S&P 500. Below this are links to view lists of the 10 most active stocks along with the 10 biggest daily movers broken down by the three major US indices. All menus can be viewed both by holding the iPhone vertically and horizontally as well.
Quotes
Quotes pages contain basic pricing information such as last trading price, daily high / low and 52 week high / low. Fundamental statistics such as P/E ratio, earnings per share (EPS) and dividend yield are also shown. Company specific news items can be accessed from here as well and are provided by COMTEX News Network.
Charts
Charts can be accessed from within the quotes menu. Time frames are available of 1d, 5d, 1m, 3m, 6m and 1y. Here is a look at a one year chart for Nintendo (NTDOY). The red line represents the last trade price:
Charts can be viewed in the iPhone's horizontal mode but the interface was not designed properly and the chart is obstructed in this mode. We hope that
TradeKing
can fix this flaw soon.
Watchlists
Watchlists can be accessed from within the main Quotes menu. Unfortunately, watchlists can only be modified from the full web based
TradeKing
platform. Also, only a single unnamed watchlist can be created per account. We hope that
TradeKing
fixes these dreadful watchlists as quickly as possible. Here is a one that we previously created and accessed via the
TradeKing
iPhone App: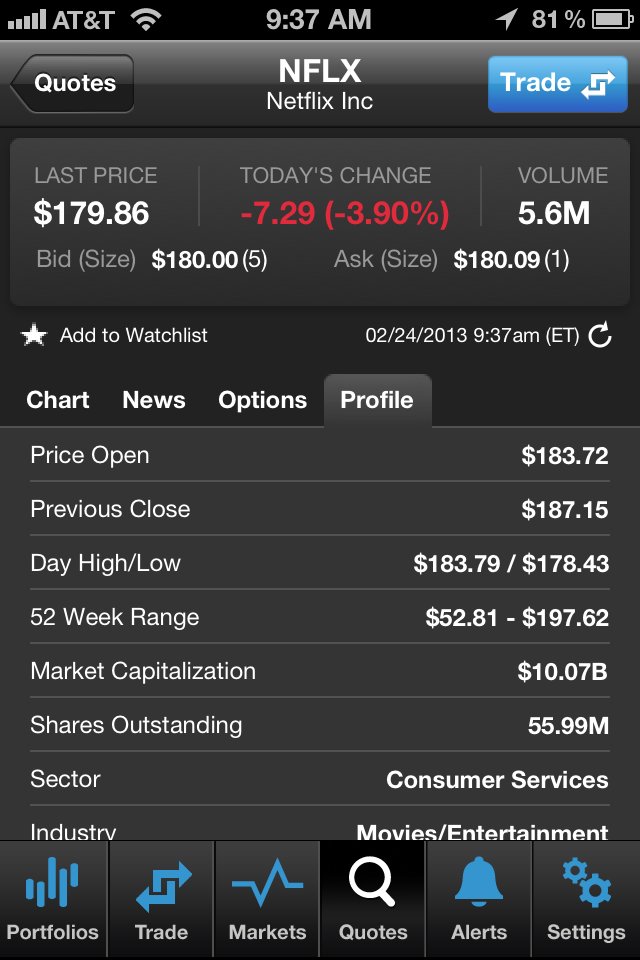 Stock Trading
To trade stocks, select the Trading icon from the bottom menu and then select Stock Trade. At the stock order entry menu we selected to buy 10 shares of Merck (MRK) at a limit price of $35.00 and a duration of good until canceled (GTC). Order types available are market, limit and stop loss. The market on close and stop limit order types, as found in
the TradeKing web based trading platform
, are omitted from the app.
TradeKing
does not specify how long GTC trades are kept in their system. When everything was set we selected the Next button:
The screen following this one provided us with an order summary and we selected the Place Order button to confirm. Our order was then submitted.
The status of open orders can be checked by navigating to the Order Status menu. Open orders can also be modified or canceled from this menu, with both actions working as expected.
When our order executed our new position populated in the Account Holdings menu. Closing out positions is made unnecessarily difficult because loading the trade ticket from this screen does not populate the number of shares or other applicable fields. Most other
broker iPhone Apps
handle closing out existing positions better.
Options Trading
To trade options, select the Trading icon from the bottom menu and then select Option Trade. At the option order entry menu we entered the underlying symbol for GlaxoSmithKline (GSK) and then selected the Find Option button. This opened a new menu with drop down boxes to select an option contract by expiration, strike and type. The menu works fine but we would prefer to have a full view of options chains. We selected the February 19 $39 Call:
This brought us back to the main order entry menu where we selected to buy 1 contract at a limit price of $1.85 and a duration of good until canceled (GTC). Once everything was set we selected the Next button:
At the next screen we confirmed our order and then it was submitted. As with stocks, open option orders can be modified or canceled from the Order Status menu. Canceling orders works fine but we had issues with modifying option limit orders. For the time being, it is best to cancel and then submit new orders instead of trying to modify orders.
Once orders execute the new positions will populate in the Account Holdings menu. As with Stocks, closing out existing option positions from this menu could be streamlined.
---
Related Articles:
TradeKing Review
TradeKing Stock Trading
TradeKing Options Trading
TradeKing Charts
TradeKing Research Tools