Updated Monday, April 25, 2011

Overview:
---
In April 2011,
ShareBuilder
launched a redesigned website, which featured a redesigned layout for options order entry. Improvements include a fix to the limit order issue, nicer charts for the detailed contract quote pages and trade confirmations that show execution time down to the second. Areas that are still in need of improvement include a lack of advanced order types and an inability to modify open orders (though they can be canceled). Thanks to the improvements,
ShareBuilder
is now a respectable choice for options traders that do not require the usage of advanced order types.
Option Order Types:
---
Buy Call / Put (one option leg) - Buy a single call / put

Covered Call (one option leg) - Write a call against an already held stock position
Buy / Write (one option leg + stock) - Simultaneously purchase stock and sell a call option of the same underlying security
Unwind (one option leg + stock) - Close out an existing covered position (sell both the stock shares and the option contracts)
Details:
---
To trade options at
ShareBuilder
select Trade from the top menu and then select the Options tab, which will load the options trade ticket. We changed the action to Buy to Open and typed in the symbol RIMM for Research in Motion. We then selected the June $55 Call contract using the drop down menus, typed in 1 for the number of contracts and changed the order type to limit with a price of $2.60. Also, we set the order expiration to good until canceled (GTC), which are maintained in
ShareBuilder
's system for up to 60 calendar days. Finally, when everything was set we clicked the Review Order button (click on images for larger views):
Alternatively, options chains can be accessed by accessing stock quote pages and then selecting the options tab. Here is a selection of options contracts available for Research in Motion: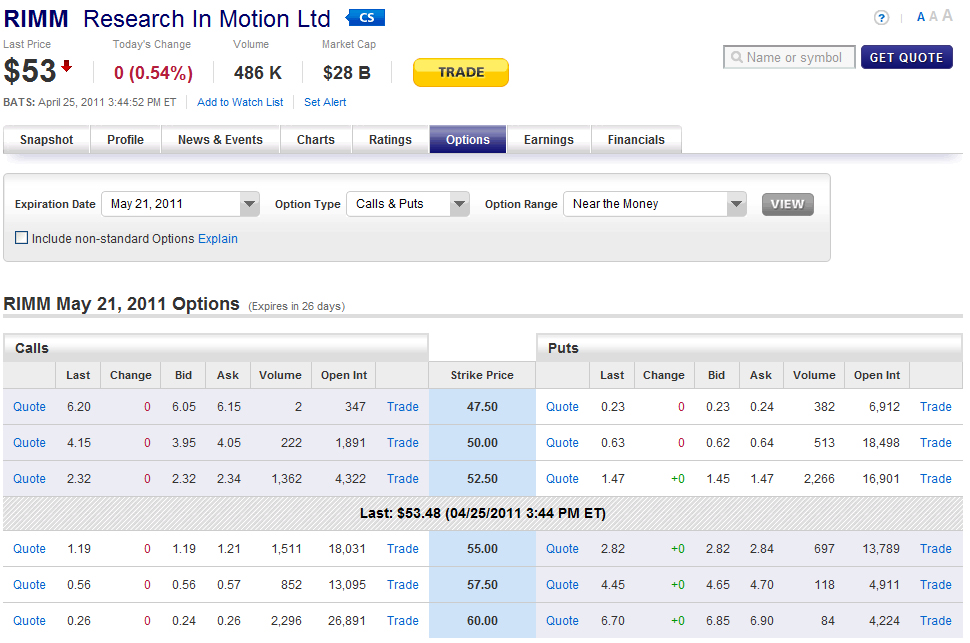 Clicking on the quote link next to any contract loads a window showing pricing information and a small chart. A link at the bottom is available to access a detailed contract quote menu, which shows even more detailed pricing information and an excellent chart:
Going back to our original order that we began to submit, we next arrived at the Order Review menu, which provided us with a commission cost for the trade, estimated total order cost and a warning message notifying us that the selected limit price is above the current quote price. This warning message can be ignored and there are no real issues with submitting limit orders, an issue that is still present when
trading stocks at ShareBuilder
. We next selected the Place Order button:
The following page notified us that our order was submitted successfully and provided links to place another trade or view the status of our newly submitted order. We clicked on the latter link, which is equivalent to accessing Trade and then Order Status from the top menu:
From the Order Status menu, open orders can be cancelled but they cannot be modified. Once our order executed it immediately populated in the Portfolio menu, which is accessed from Accounts then Portfolio / Positions from the top menu. There is an issue with showing the cost per contract, cost basis gain / loss calculations at the moment, with all columns showing zero values currently. Hopefully
ShareBuilder
can fix this issue soon. We decided to close out our position so we selected Trade and then Close from this menu:
This loaded the trade ticket with the symbol and number of contracts populated and the action set to sell. We would prefer if the order type defaulted to a limit order with the limit price set to the latest quote price.
---
Related Articles:
ShareBuilder Review
ShareBuilder Stock Trading
ShareBuilder Charts
ShareBuilder Research Tools
ShareBuilder iPhone App
ShareBuilder Android App