Updated Saturday, April 9, 2011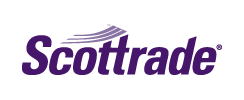 Note: This is our review for the standard web based Scottrade stock trading platform. For our review of the Scottrader stock trading platform click here.
Overview:
---
Trading stocks at
Scottrade
is generally a good experience. Opening new positions from the stock order entry menu is well done while closing out positions from the portfolio view could use some improvement. Both modifying and canceling open orders works flawlessly. There are a large number of order types which should satisfy the needs of all but the most advanced traders. Confirmations include execution times down the second.
Order Types:
---
See our Order Types page for an explanation of order types
Market
Limit
Stop Loss
Stop Limit
Trailing Stop Loss $
Trailing Stop Loss %
Contingent/Conditional
One Cancels All (OCA)
One Cancels Other (OCO)
Details:
---
To close out existing positions at
Scottrade
, click on the quantity listing from the portfolio view to bring up the sell screen. The symbol is populated but it would be more convenient if the trade type defaulted to sell and the quantity to the number of shares I own (click on images for larger views):
I entered a sell order for 10 shares of XBI at the limit price of $59.50. Scottrade allows good until canceled orders but does not give the date when orders will be purged:
I am asked to confirm my order:
My order was submitted:
Check the status of orders by clicking on the order status tab. From there users can modify or cancel open orders. Both modifying and canceling orders works well, with the old/canceled trade status updating instantly.
---
Related Articles:
Scottrade Review
Scottrade Options Trading
Scottrade Charts
Scottrade Research Tools