Updated Sunday, November 21, 2010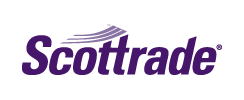 Note: This is our review for the standard Scottrade options trading platform. For our review of the Scottrade Scottrader options trading platform click here.
Overview:
---
Executing basic option trades from the
Scottrade
option order entry menu works well. Closing out existing holdings from the positions page also works well. Option chains are available as are very basic metrics. Notably missing are option contract price charts. Confirmations include execution times down to the second. Modifying and canceling open orders works flawlessly. Conditional and one cancels other order types are great but what is really missing is the basic covered and multi leg order types. This flaw forces us to not recommend
Scottrade
for options trading purposes.
Option Order Types:
---
Buy Calls (one option leg) - Buy one or more call option contracts
Buy Puts (one option leg) - Buy one or more put option contracts
Conditional (one option leg) - Conditional orders can be customized to trigger on a variety of situations not specified in other trade types, such as volume or time constraints. Conditional orders offer a huge variety of potential order types. Visit Scottrade for more information.
One Cancels Other/All (two separate option orders) - Enter two orders, and if one of the orders executes, cancel the order. Conditions can be set for execution of each of the two orders.
Scottrade
also allows clients to sell covered calls but there is no specific order type to do this. Users simply purchase the underlying shares and then sell the corresponding calls via separate transactions.
Details:
---
To trade options at
Scottrade
, select the Trade tab followed by the sidebar link titled Options, which brings up the option order entry screen. I did not know which specific contract I wanted to buy so I clicked on the options chain link found on the order entry menu. This opened a pop up window with an options chain lookup interface. I entered the underlying symbol of EEM, the iShares MSCI Emerging Markets ETF, an expiration date of January 2010 and clicked Go. This displayed the corresponding option chains (click on images for larger views):
I clicked on one of the contract names, which loaded an information page for this contract. A slightly different options chain menu can be accessed by clicking on the option tab on this page. Note that the price chart and much of the other information provided on this page is for the underlying ETF and not for the option contract:
This was the contract I wanted to trade so I clicked on the trade button. This brought me back to the option trade ticket menu with the symbol EEMAN populated. To complete the order, I selected to buy 1 contract with a limit price of $2.50 and a duration of good until canceled. I then clicked on the Review Order button:
Next came the option order review screen. Everything looked OK so I selected to place the order:

My order was submitted. To check the status, I clicked on the Check Order Status link:
From the order status menu, trades can be modified or canceled. Both actions work well and instantly update the order status screen.
I decided to let my trade go through so it executed at the market open the following morning. At that point my new holding appeared on the Positions page:
To close out my position, I clicked on the contract quantity link which brought up the trade ticket with the action, contract and symbol auto populated. I changed the order type to limit, entered an amount and submitted my order.
---
Related Articles:
Scottrade Review
Scottrade Stock Trading
Scottrade Charts
Scottrade Research Tools