Updated Saturday, April 9, 2011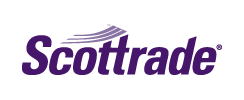 Scottrader Stock Trading Grade: B
Note: This is our review for the Scottrade Scottrader stock trading platform. For our review of the standard web based Scottrade stock trading platform click here.
Overview:
---
Scottrader is a nice step up from
Scottrade
's already respectable standard web based stock trading platform. The intuitive yet powerful list and layouts structure was designed with high frequency traders in mind. Opening new positions from the quick trade menu and the advanced trading menu are both quality experiences. Closing out existing positions from the My Positions menu is just short of perfection. Both modifying and canceling open orders work flawlessly. The same large selection of order types found in the standard trading platform are found here as well. Order execution times can be viewed down to the second. Very high volume traders may dislike that order confirmation dialog boxes cannot be disabled, thus slowing down the order entry process. With very minor grievances aside, Scottrader is a high quality stock trading platform.
Order Types:
---
See our Order Types page for an explanation of order types
Market
Limit
Stop Loss
Stop Limit
Trailing Stop Loss $
Trailing Stop Loss %
Contingent/Conditional
One Cancels All (OCA)
One Cancels Other (OCO)
Details:
---
Scottrader is real time quotes and trading platform available to all
Scottrade
customers free of charge. To launch Scottrader, log in via the standard web based trading platform and locate the Scottrader link found in the far left menu. Clicking the link will download a java file that will launch the Scottrader platform. Note that Java 6 update 14 or higher is required to use Scottrader.
Before trading any stocks, the first thing that new Scottrader users want to do is create a stock list. Stock lists are simply groups of stocks that the user is interested in keeping track of in real time. Multiple stock lists can be created and given unique names.
Next, users will want to create a layout. Layouts are user customizable reports that display up to 40 different columns updated in real time. Column choices include bid / ask / last prices, $ / % change, open / high / low / close prices, volume, 52 week high / low prices, price / earnings ratio (P/E) and yield. Once columns are selected they can easily be re-ordered by clicking and dragging column headers or re-sized by shrinking or expanding column headers. Up to three layouts can be created and toggled via layout tabs found at the bottom of the application.
Here is a look at our Scottrader window with a customized layout and a stock list of big US companies (click on images for larger views):
Once we created our layout and list we were ready to trade. The easiest method is to select the row containing the stock in question which populates the symbol in the quick trade menu. Here is our previously shown list and layout with Apple (AAPL) selected and the quick trade menu populated at the bottom:
An alternative method is to click on the Buy or Sell link found in the Trading column. This open a new window with a larger order entry menu. One additional feature found in this menu is the Advanced tab, which allows for conditional orders. We decided to use the second trading method to purchase 10 shares of Merck (MRK) at a limit price of $33 and a time in force of good until canceled. Once everything was set we clicked on the Place Order button:
A dialog box appeared which asked us to confirm our order. We clicked OK which brought us back to the order entry menu and provided us with an order submission confirmation with reference number. Note that this dialog box cannot be disabled for either the advanced order entry menu or the quick trade menu, which may be a minor annoyance to ultra high frequency traders.
To check the status of our order we clicked on the Open Orders button found at the top of the Scottrader menu. This opened a new window where we could modify or cancel our order, with both actions working properly. We decided to let our order go through so it executed shortly thereafter. We then clicked on the My Positions button at the top of the Scottrader menu to view our newly acquired holding. After a small loss we decided to close out our position so we clicked on the Sell link:
This opened a new window with the full trading menu set to sell our specified symbol. It would be more convenient if the quantity also auto-populated to the number of shares that we owned.
---
Related Articles:
Scottrade Review
Scottrade Stock Trading
Scottrade Options Trading
Scottrade Charts
Scottrade Research Tools