Updated Tuesday, September 1, 2009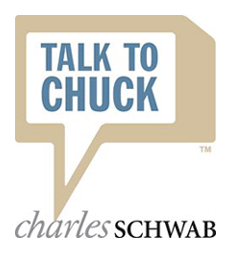 Note: This is our review of the standard Schwab account charts. For our review of the Schwab StreetSmart charts please click here.
Overview:
---
This is our second review of the standard
Schwab
account charts. In our first review, we noted how
Schwab
's charts were a blown opportunity in that they were not designed well to fit in with the site interface. Thankfully, this issue has been fixed. On top of that, additional chart features have been added.
Schwab
's charts are visually appealing, though a bit small for our 22" high resolution monitor. There are also a good selection of technical indicators from which to choose. Finally, there are drawing tools and chart settings can be saved as well. Put it all together and
Schwab
has one of the better charting applications around.
Details:
---
Basic 1 year mountain chart for Exxon Mobile (XOM) with earnings and dividends events (click on images for larger views):
5 year line chart comparing Exxon Mobile (XOM), Chevron (CVX), British Petroleum (BP) and Petro China (PTR):
3 month candlestick chart of Devon Energy (DVN) with bollinger bands and PE history:
There are 40 different technical indicators to choose from. Here is 2 year line candlestick chart of Caterpillar (CAT) with Parabolic SAR signals, MACD histogram, Accumulation/Distribution lines and MACD indicators:
You also have a limited ability to draw on your charts. Here is a 3 month candlestick chart of Caterpillar (CAT) which I drew a trend line and then a text note:
Saving chart settings is a snap. Simply modify the chart as you wish and then select "save chart." Give the chart a name. Now the chart settings can be loaded by hovering over the "my saved charts" button and selecting the chart by name:
---
Related Articles:
Schwab Review
Schwab Stock Trading
Schwab Options Trading
Schwab Research Tools
Schwab iPhone App
Schwab Android App