Updated Saturday, October 1, 2011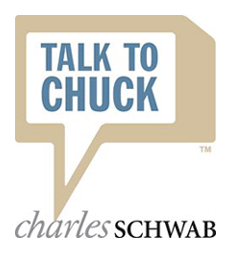 Not recommended for those that maintain margin balances but recommended for all others
Company Background:
---
Schwab can trace its roots back to 1971 when Charles Schwab himself founded First Commander Corporation. First Commander was renamed Schwab in 1973 to offer discount brokerage services to retail clients.. Schwab.com went live in 1995 and online trading followed one year later in 1996. As of January 2010, Schwab has 7.7 million clients with $1.42 billion in assets. There are over 300 Schwab branch offices throughout the US.
On March 21, 2011, Schwab announced that it was set to acquire
optionsXpress
. OptionsXpress shareholders will get 1.02 shares of Schwab stock for each share of optionsXpress stock, valuing the deal at about $1 billion. The deal is expected to close in the third quarter of 2011.
Schwab is publicly traded on the New York Stock Exchange under the symbol SCHW and currently has a market cap of $22.2 billion. Walter Bettinger is the CEO and Charles Schwab is the Chairman. Its
clearing firm
is Charles Schwab Clearing Services.
Platforms:
---
Website: www.schwab.com
Advanced Trading Platforms: StreetSmart Edge (Desktop Application), StreetSmart Pro (Desktop Application) and StreetSmart.com

Mobile Website: wireless.schwab.com
iPhone App: Yes
Android App: Yes
BlackBerry App: No
Review Summary:
---
Schwab offers good research tools, quality charts and acceptable commissions and fees. The standard web based trading platform is average for both stocks and options. Active traders can step up to StreetSmart Edge, which offers an enhanced stock and options trading platform, a top charting tool and a few additional research tools. Schwab loses points for a mediocre registration process and excessive margin rates but offsets this by offering an excellent Dividend Reinvestment Plan (DRIP) commission free ETF trading via Schwab branded funds. The iPhone and Android apps both offer quality mobile trading experiences. We recommend Schwab to investors of all types except those that heavily utilize margin.
Detailed Reviews by Category:
---