Updated Sunday, October 16, 2011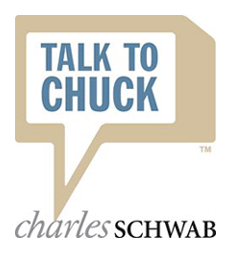 Schwab iPhone App Grade: B
Overview:
---
The
Schwab
iPhone app interface design is OK but the home page is currently underutilized. General app usability has been improved with a recent update that implemented user sessions. Checking basic account information such as balances and history is fine. The stock quote pages are detailed while the charts are top notch. General market news and company specific articles are extensive. Trading stocks is mostly well done while we have a few gripes with trading options. Some features that
Schwab
has added since releasing the app include funds transfers, check depositing using the iPhone camera and the addition of user sessions. The
Schwab
iPhone app offers one of the top broker mobile trading experiences.
App Store Facts:
---
App Name: Schwab Mobile
Version: 1.3.2.14
App Size: 9.5 MB
User Rating: 3.5 / 5 stars
Details:
---
Upon opening the
Schwab
iPhone app, users must log in to access any of the app features. It would be nice if certain sections, such as stock quotes and news could be accessed without logging in. User names can be stored but passwords must be entered each time the app is opened. As of version 3.1, sessions are now maintained so that if users briefly close the app then they will not be prompted for their password upon re-entry.
Menu Structure
Once users are logged in they are taken to the app home page. This page features icons with links to the watch lists, positions, order status, market overview, transfers, check deposits, a list of forthcoming app updates and an option to call
Schwab
. We are not sure why
Schwab
chose this seemingly random collection of icons but we wish they would either expand upon the home page or let users customize the icons themselves. The bottom menu contains icons for home, accounts, trade and quotes.
Accounts
The Accounts menu shows the accounts that users hold at
Schwab
along with the current balance and daily change in value for each account. Selecting a particular account brings up a detailed balance page and links to access position and history pages.
Transfers
New to version 1.1.0 of the
Schwab
iPhone App is the ability to transfer funds into and out of
Schwab
accounts. This feature is available for all customers that have linked an external bank account.
Deposit Check
New to version 1.2 is the ability to deposit checks by taking a photo on the iPhone. Enter this menu and then select the Apply button to submit an application, which should be approved within 3 business days. Very cool feature.
Market Overview
The top of the Market Overview menu shows the latest prices for the Dow Jones Industrial Average (DJIA), S&P 500 and NASDAQ and an accompanying chart. After that there is a breakdown of advancing / declining stocks for the NYSE, NASDAQ and AMEX. Below this is a list of the best and worst performing sectors over the past three months (click on images for larger views):
Market News
The Market News section contains news articles provided by the
Associated Press Online
,
Reuters
and
StreetInsider
. News can be filtered by sector and by world region.
Quotes
The Quotes menu contains separate pages for a company summary, company news and options chains. The summary page shows a one day chart, stock information such as bid / ask prices, 52 week high / low and P/E and a brief description of the company's line of business. The news page shows company relevant news articles. Options chains show the bid and ask prices for all puts and calls for all outstanding contracts.
Turning the iPhone horizontally anywhere in the quotes menu will load the charts interface. Charts can be viewed for time frames of 1d, 5d, 1m, 3m, 6m, 1y, 3y, 5y, 10y and the max history for that stock / index. Technical indicators available include moving averages, bollinger bands and MACD. Earnings and dividend event indicators can be shown or suppressed. Plot styles available include mountain, candlestick, line and open / high / low / close. A relevant moving average is automatically shown on all charts. The charts are very impressive. Here is a one year candlestick chart for ConocoPhillips (COP) with bollinger bands and earnings and dividend events:
Watch Lists
Watch lists are user customizable lists of securities, their last price and their price change during the current day. Selecting any security from within a watch list brings up the quotes menu for that security. Here is a watch list that we created consisting of popular oil companies:
Stock Trading
To trade stocks select the Trade icon from the bottom menu and then select Stocks & ETFs from the top trading menu. The order entry screen is very long and requires scrolling down several screens to view everything. We like the extra real estate since it allows for large text and selection boxes and should help reduce fat fingering trades. Orders types allowed include market, limit, stop loss and stop limit which is the same selection that is found in
the full web based trading platform
. Here is an order we submitted to purchase 10 share of Chevron (CVX) with a limit price of $88.75 and a timing of Good Until Canceled, which are held in
Schwab
's system for 60 calendar days until they are purged:
We received a warning message because our limit price was below the last trade price. We selected to verify our selected price and our order was submitted. Open orders can be viewed, modified or canceled from the Order Status menu. Once our order executed our new position populated in the accounts positions menu. Strangely enough, there is no easy way to close out positions from this menu. Users have to select the position, which loads the security quote page, then select the Trade button to load the order entry screen. The order entry screen shows the open position size and allows for the quick selection of this quantity but it would be more convenient if the positions page loaded all of this automatically.
Options Trading
To trade options select the Trade icon from the bottom menu and then select Options from the top trading menu. Step one is to enter the underlying stock symbol. If users do not know the symbol then the symbol entry box functions as a symbol lookup menu. We entered XOM for Exxon Mobil. This then loaded the relevant option chains. Once we found the contract that we wanted from the option chains we selected it, which loaded a detailed quote page for that contract:
We decided that this was the contract that we wanted so we selected the Trade button. This brought us back to the options order entry menu with the contract populated. Unlike
the full web based trading platform
the iPhone platform does not allow for multi-legged options orders. We selected to buy 1 contract with a limit price of $1.20. When everything was set we selected the Review Order button:
As with stock trading, options open orders can be viewed, modified or canceled from the Open Orders menu and executed orders populate in the Positions menu. Closing out positions from the Positions menu could be handled slightly better.
For a separate trade that we entered, we tried submitting an order with a limit price that was 25% below the last trade price. This prompted us with an error message noting that the limit price was too low and that the order could not be submitted. To make it clear, there is no way to submit certain limit orders for options. It is puzzling why the warning system that is in place for equities is not also done for options. We complained about this in
our review of the web based Schwab options trading platform
. As it stands, we are not satisfied with the functionality of limit orders for options and do not recommend trading options with
Schwab
.
---
Related Articles:
Schwab Review
Schwab Stock Trading
Schwab Options Trading
Schwab Charts
Schwab Research Tools
Schwab Android App