Updated Monday, July 5, 2010
optionsXpress iPhone App Grade: C
Overview:
---
The
optionsXpress
iPhone App is a serviceable if flawed trading platform. We dislike being forced to enter our account information before using any of the app features as well as having to log in every time we re-open the app. Retrieving account balances and positions is simple if not fully featured while the quotes pages are slightly lacking. Do not be fooled by the menu choices for charts and news as these features do not work at all. The included tools such as The Dragon and the Reversals Screener are interesting, though we think they could be implemented slightly better. Finally, options trading is disappointingly limited to basic order types while stock trading is handled quite well. Overall, the
optionsXpress
iPhone App has great potential but at this stage is not among the top mobile trading platforms.
App Store Facts:
---
App Name: optionsXpress Mobile
Version: 1.5.2
App Size: 1.6 MB
User Rating: 3 / 5 stars
Details:
---
Upon launching the
optionsXpress
iPhone App, users are prompted to enter their login information before continuing. Most other iPhone apps allow access to general features, such as quotes and charts, without logging in first.
Once exiting the app, users are forced to log in again even if the app has only been closed for a short period of time. This makes multitasking with
optionsXpress
and other apps nearly impossible.
Once in the app, the main menu consists of 13 items. Some of the major menu choices are described below.
Balances
The Balances menu allows users to check their account balance, buying power, margin requirements and holdings by category.
Positions
Positions shows a list of user holdings.
Watchlist
Watchlists are user customizable lists of securities and their latest bid and ask prices. Selecting any item in a watch list brings up the quotes menu for that security. Here is a watch list that we created with some popular oil company stocks: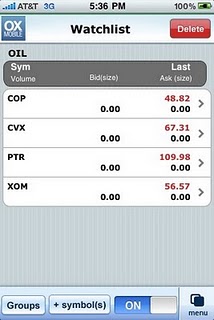 Quotes
The quotes screen shows basic stock and index price information such as last price, daily percent change, volume and 52 week range. Much of this information is not populated outside of market hours which we find to be very poor functionality. Here is the quote screen for Toyota (TM):
Global Markets
The Global Markets section contains the latest price and daily percent change for six international indices. These indices are the Australian All Ordinaries, Hong Kong Hang Seng, Japanese Nikkei 225, Brazilian Bovespa, Indian BSE and Chinese SEE Composite:
There are no detailed quote pages and users have no ability to add additional indexes. This is a weak effort since we can think of at least ten other global indexes that should be added to this menu.
Gainers & Losers
The Gainers & Losers menu shows the top and bottom 15 stocks according to their daily percentage change. Selecting any stock from this menu brings up the detailed quote page for that security.
The Dragon
The Dragon is an
optionsXpress
proprietary tool that in their own words, "is designed to assist you in finding unique trading opportunities. Whether it's volume, volatility or open interest, The Dragon quickly identifies matching stocks and their options." Basically, The Dragon is a slickly designed stock, ETF and options screener. Here are the results returned after searching for stocks with a high put/call ratio: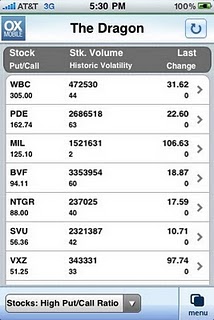 From this menu we selected Wabco Holdings (WBC) which brought up a detailed page showing the put/call ratio and other pricing information. The Dragon is a glorified stock screener but nevertheless, we think it is worth checking out:
Reversals Screener
The Reversals Screener shows those stocks that have had the most number of bullish or bearish technical events during the most recent trading day. The screener can be filtered by index (S&P500, NASD, NYSE and Dow) and the type of event (bullish, bearish or both). Users can also search any stock symbol to view the bullish and bearish events that apply to that security.
For example, here is a view of those stocks with the most number of bullish technical events on the NYSE: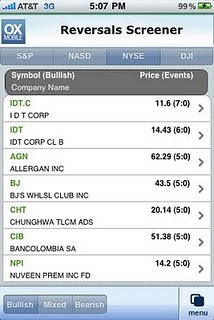 From these results, we selected BJ's Wholesalers (BJ) which brought up a description of the five bullish technical events: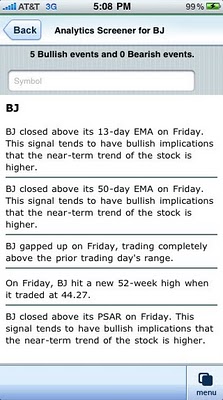 This is an interesting tool but it would be a lot more useful if accompanying charts were provided that showed the technical events.
Charts
When we attempted to load charts the app responded with a message to try again later. We tried everything from popular stocks like AAPL and XOM to the NASDAQ and DOW indices but we had no luck. Hopefully optionsXpress can rectify this as soon as possible.
News
When we selected the News menu we were prompted with a message that said "No Data Available." It looks like this section does not work as well.
Stock Trading
To trade stocks, select Trade from the main menu which brings up the combined stock and options trade ticket. Order types available are market, limit, stop loss, stop limit and market on close. This is reduced from
the optionsXpress full web based stock trading platform
, which also offers trailing stop and conditional order types.
We selected to buy 10 shares of GE at a limit price of $13.95 with a good until canceled duration.
OptionsXpress
does not disclose how long good until canceled orders are maintained in their system. When everything looked correct we selected the Place Order button:
This loaded the trade confirmation screen. We then selected the Confirm button which then generated a message stating that the order was placed successfully.
Open orders can be modified or canceled from the View Orders menu, with both actions working as expected. Once buy orders are executed, new holdings will be viewable from within the Positions menu.
Options Trading
To trade options, select Trade from the main menu, which brings up the combined stock and options trade ticket. Enter the underlying stock symbol and then select the Option button to bring up the contract selection menu. Alternatively, users can view detailed options chains from the main menu. Selecting any of the contracts loads the trade ticket with that particular contract selected:
Unlike
the full optionsXpress web trading platform
, the
optionsXpress
iPhone App does not allow for multi leg options orders.
As with stocks, open options orders can be modified or canceled from the View Orders menu, with both actions working as expected. Once buy orders are executed, new holdings will be viewable from within the Positions menu.