Updated Sunday, April 10, 2011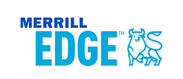 Overview:
---
The stock trading platform at
Merrill Edge
is underwhelming. Opening new positions is satisfactory but closing out existing positions could be handled better. Modifying and canceling orders is implemented well. Orders types available are extremely limited when compared to the competition. Trade confirmations include the date but not the hour or minute of execution. With a better trading interface we would recommend the service to casual traders and with more order types we would recommend it to advanced traders. In its current state, however, we cannot recommend the
Merrill Edge
stock trading platform.
Order Types:
---
See our Order Types page for an explanation of order types
Details:
---
To load the equities trading menu select Trade from
Merrill Edge
's top menu. We entered an order to buy 10 shares of Sony (SNE) at a limit price of $36.00 and a duration of good until canceled. GTC orders are held in
Merrill Edge
's system for a maximum of 30 calendar days before they are purged (click on images for larger views):
This loaded the order confirmation page, which included the estimated commission and total estimated order amount. We clicked the Submit Order button: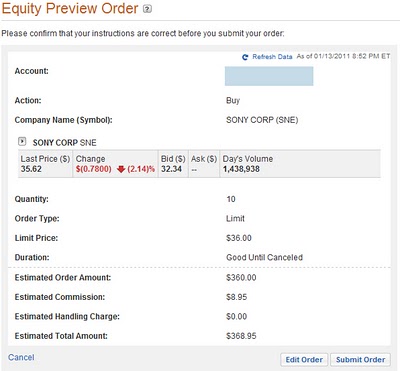 Our order was submitted successfully: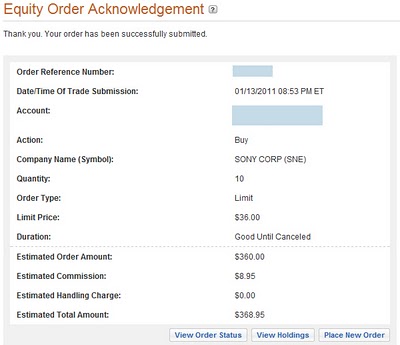 The status of orders can be checked by navigating to the Order Status menu. From this menu open orders can be modified or cancelled, with both actions working flawlessly.
Once our order executed our newly acquired position populated in the Account Holdings menu. Most brokers have a simple link next to each holding that makes it easy to close out positions. Curiously, this is not found at
Merrill Edge
and makes selling holdings unnecessarily cumbersome. To close out our position we had to load the trade ticket, enter the stock symbol, the number of shares, etc. We hope
Merrill Edge
will improve this usability flaw.
---
Related Articles:
Merrill Edge Review
Merrill Edge Charts
Merrill Edge Research Tools