Updated Tuesday, March 1, 2011
Overview:
---
In our original review done in 2010, we blasted the
Firstrade
options trading platform for its clunky interface and poor design. In early 2011, thankfully,
Firstrade
has rolled out a much needed redesign. Opening new positions from the options order entry menu is now intuitive and requires very few clicks. Closing out holdings from the positions menu is vastly improved. Canceling open orders works fine but modifying orders is no longer available. Trade execution times are shown down to the second. On the negative side, order types are limited to single leg, spread, straddle and conditional orders. The lack of advanced order types consisting of more than two legs keeps the
Firstrade
options trading platform from being among the top broker offerings. With that said, it will fulfill the needs of those investors utilizing basic options trading strategies.
Order Types:
---
Buy / Sell a Call / Put (one option leg) - Buy or sell a single call or put
Spread (two option legs) - An order to simultaneously purchase and sell options at different strike prices, where both have the same underlying, right (call or put) and expiration date.
Straddle (two option legs) - Buy/sell a put and call with matching strikes and expiration
One Cancels the Other (two option legs) - If one order to buy/sell a put/call is triggered then cancel a second order to buy/sell a put/call
One Triggers the Other (two option legs) - If one order to buy/sell a put/call is triggered then trigger a second order to buy/sell a put/call
Details:
---
To trade options at
Firstrade
, click on the Trading tab and then select Options to bring up the trade ticket. There are separate tabs to trade spreads and straddles but the single leg tab is selected by default. We typed in the underlying symbol for Cisco (CSCO) and then clicked on the Get Chain link to load our desired options chain: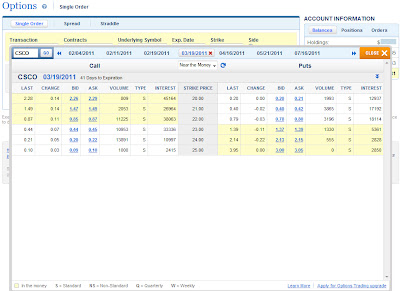 Note that there are no detailed option contract pages, which are found at many brokers and include detailed quote information and price charts. When we found the desired contract we clicked on the bid / ask price, which brought us back to the trade ticket with the contract now populated. The options chain retrieval menu is much improved with the recent redesign.
From there we selected to buy one contract at a limit price of $1.55 and a duration of GT90, which is canceled after 90 calendar days. When everything was set we clicked on the Preview button:
The preview order screen showed the estimated commission and estimated order total. This looked correct so we clicked on the Send Order button:
Our order was then submitted successfully. We then checked the order status by clicking on the Order Status button. From this menu, open orders can be canceled. As part of the redesign, modifying open orders has been removed. Hopefully
Firstrade
can re-implement this feature soon.
Once our order executed we checked the status of our new holding by clicking on My Accounts and then Positions from the top menu. This section has been much improved as part of the redesign effort. The default view now shows the symbol, quantity, latest pricing information, daily gain / loss and total gain / loss and is perfect for most investors. Users can also customize this menu by choosing from a selection of 44 different columns. Separately, our
research tools review
shows how gain / loss information can be stored and retrieved using the X-Stream Portfolio application but this is a totally separate application from the main
Firstrade
trading platform.
We decided to close out our position so we clicked on the Action button and then selected the Close Position link. This loaded a condensed version of the options trade ticket just below the Positions menu and pre-populated the transaction, number of contracts and the specific option contract details. We then entered a limit price and submitted our order:
---
Related Articles:
Firstrade Review
Firstrade Stock Trading
Firstrade Charts
Firstrade Research Tools
Firstrade iPhone App